Get a Free 30 day trial of MarketPlus Premium subscription when you get an hour consultation with Paul Forchione. MarketPlus Premium shows how we (Oahu) can use information to form actionable trade strategies.

By using our website, you agree to accept our terms of use (click to read)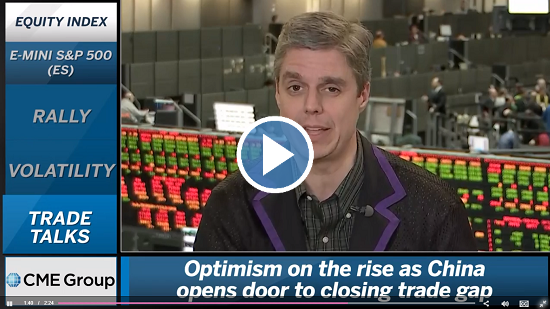 ---
Commentary
Equity markets on the rise post holiday with highest weekly settle since Oct.


Positive news out of China. Opens door to closing trade gap.


VIX has its lowest weekly settle since October.


Earnings are coming up with Davos conference, ECB meeting


---
Volatility
It appears volatility has run down with the run up on markets with optimism.


---
Notes:
Contract Size - $50 x S&P 500 Index.

Tick Size: Outright: 0.25 index points=$12.50

Trading Hours: CME Globex: Sunday - Friday 6:00 p.m. - 5:00 p.m. Eastern Time (ET) with trading halt 4:15 p.m. - 4:30 p.m.
* Tip: Click here to read a helpful tip about E-Mini S&P futures and options
---
E-Mini S&P

Below is a weekly chart with widening of bands possibly indicating more volatility ahead if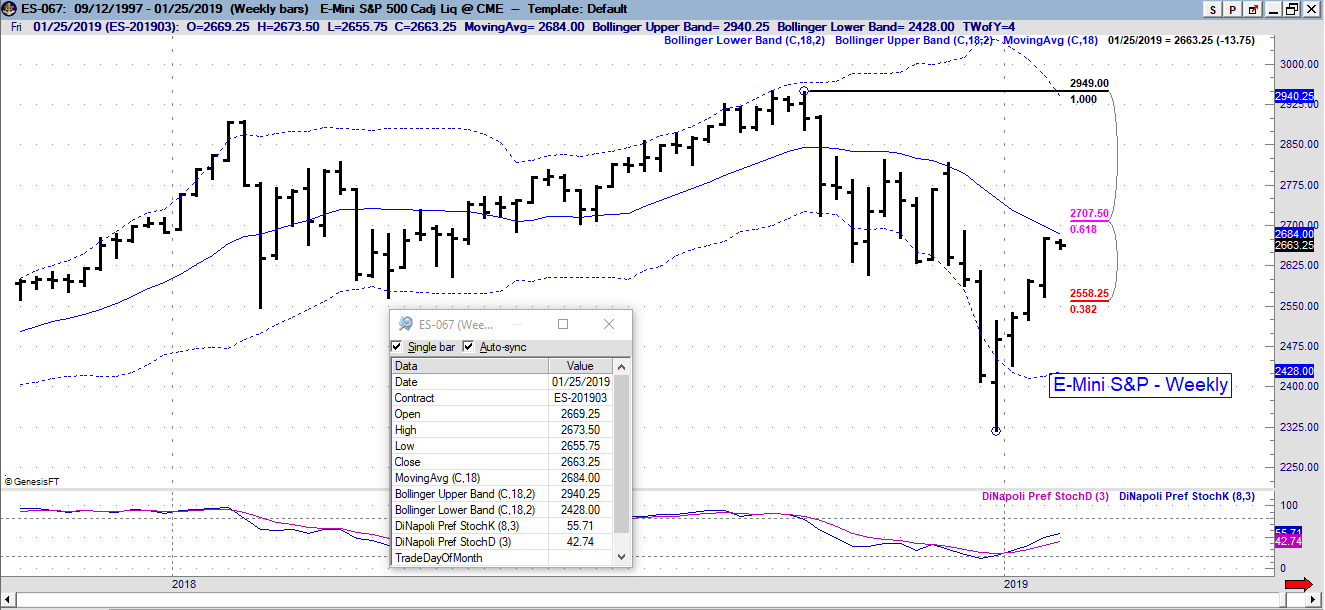 Below is a daily chart. Price broke above prior highs and although not shown, MACD has turned positive in tandem with Stochastics. Forecast technical resistance levels based on Fibonacci retracement and expansion levels coinciding above the 20 MA at center of Bollinger Bands.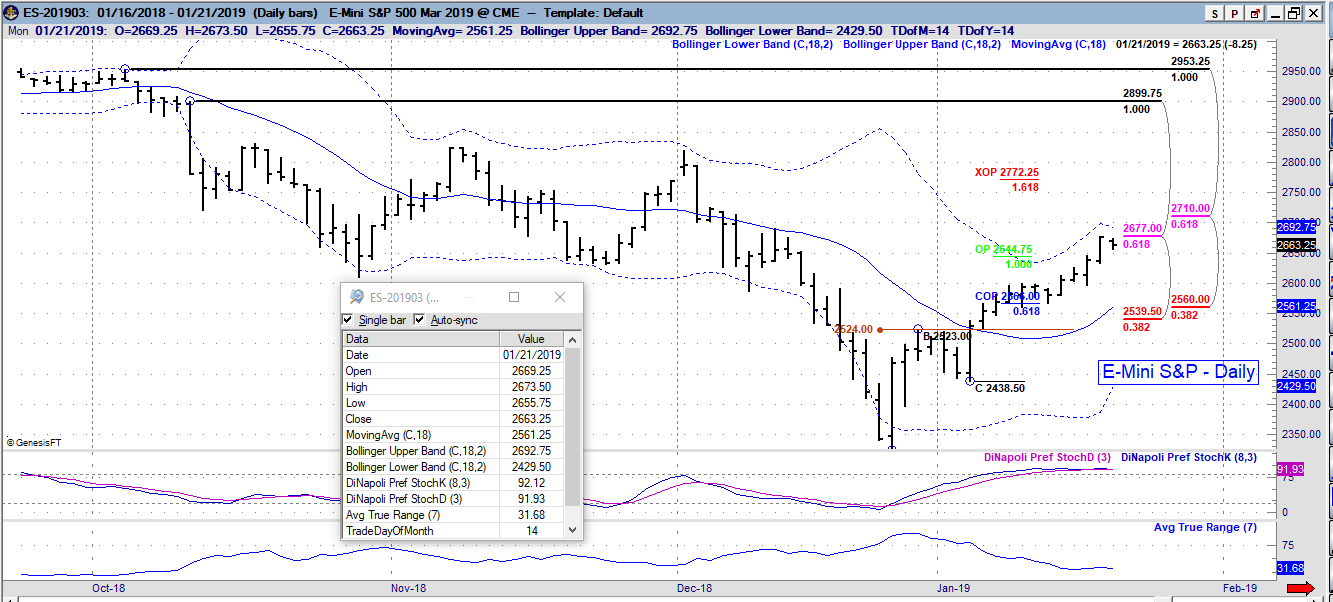 * Tip: Click here on enlarging images
---
Strategies
Below is an illustration of a bearish diagonal calendar to the downside if one's view were a further sell off to the downside. The structure has positive vega to take advantage of a hike in volatility. In the ACE Program education, we cover option strikes used.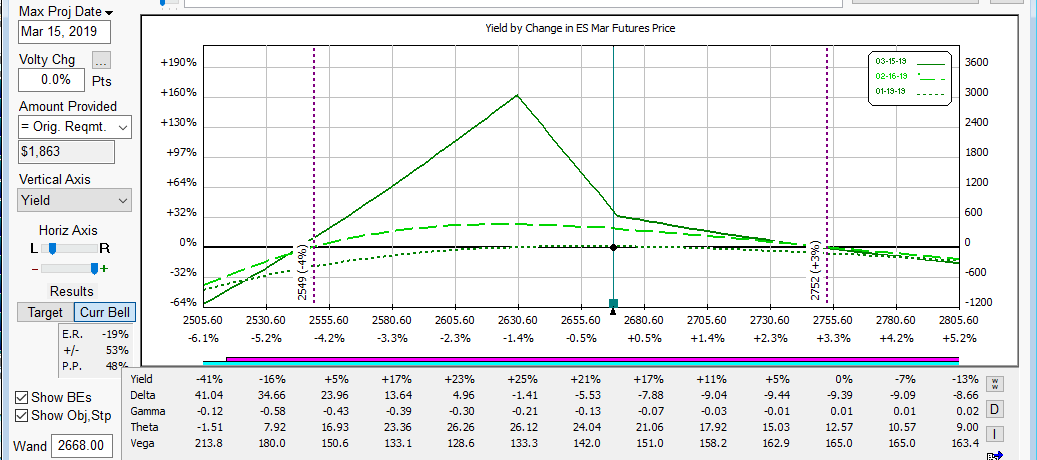 Below is a reverse calendar spread using puts if one's view were bullish for negative vega to the upside.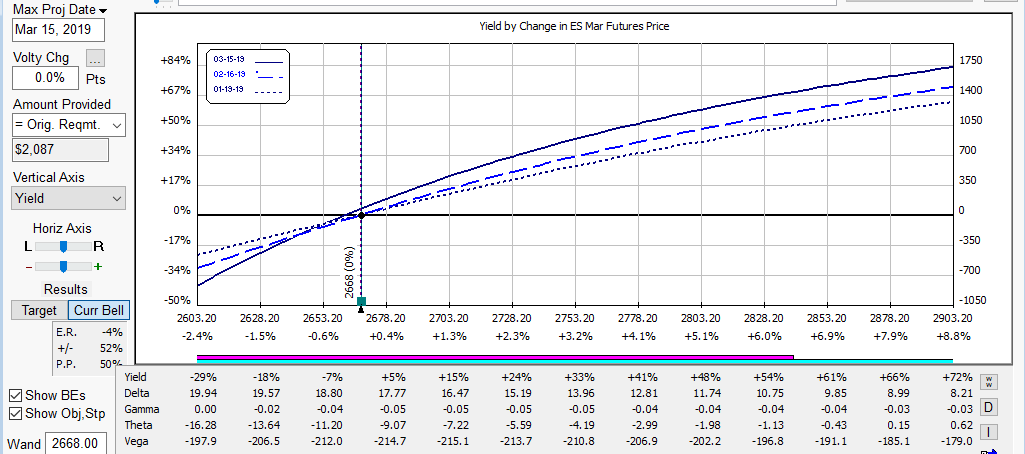 As

prices move higher and implied volatility drops with optimism in the markets, there would be additional Vega on the position as modeled below.