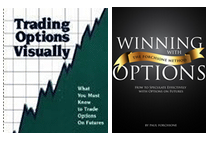 A Guide to trading Options on Futures markets
"I have been a member of the Chicago Board of Trade since 1973. Now I am semi-retired and bought your book. It was everything your promotional material said it would be...Thank you."
S. W. Harrison, Jr., Member, Chicago Board of Trade
---
Here is what traders are saying
"I DO like the book . . . but even better I like that you are so responsive to questions! Thanks!!"
Brad Hanscom
"Your ideas are great. I found the book very informative. Thank you for your help." Vincent Knight
"Trading Options Visually is the best book I have read. Nothing compares to the nuts and bolts information in your book. Thanks for a great product."
John Parker
"Your course has been just what I needed to take me to the next level."
Mike Danchak
"In this book is everything you need to know to trade options successfully, long term. Paul Forchione knows neutral trading and explains it better than anyone."
Len Yates, President
OptionVue Systems International
"I am very impressed with the clarity and organization of the content. Clear cut and to the point, which I appreciate."
Jordan M. Tannebaum
"Trading futures is exciting because of the large profits that are possible. Now I also know how to trade option spreads, take less risk and be more consistent."
Tom B.
"I've always considered myself the world's biggest skeptic, but decided to give your book a try. Worth every penny, as this is without a doubt the best way to trade!. Thank you."
Bob S., Lynchburg, VA
---
As a bonus, receive a 1 day preview of The ACE Program and free crash course video on trading Crude Oil. Claim your bonus by sending us an email after purchase.
---
Upon payment of the item below, please be sure to provide address and whether you prefer Regular Mail or FedEx. We will send a separate email with shipping quotation and electronic invoice to finalize your order.