DZH International offers charting software and data covering international markets. Oahu Capital offers their services to clients looking to trade Asian markets with charting software and indicators.

---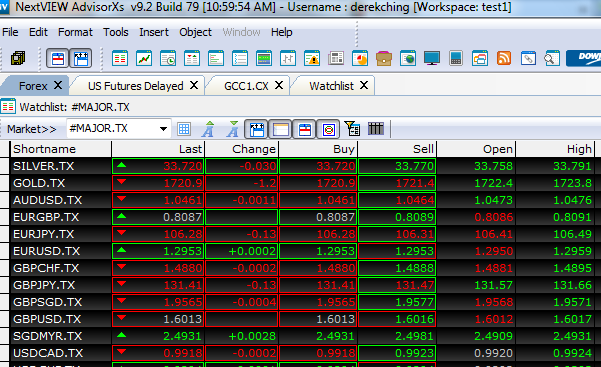 ---
Get book Trading with DiNapoli Levels
---

Get Advisor X software with DiNapoli indicators! Share your interest and experience

---
Learn to use Limited Risk Option strategies in your trading by checking out ACE-Oahu Complete Course
---
ADVISOR X

Navigate volatile markets and stay on target! Download an AdvisorX's Trial Today!
AdvisorXs is a high-speed integrated information service providing you with affordable, fast and reliable real-time market quotes, news and decision support for sophisticated investor and technical traders with tools for selecting, analyzing, charting and comparing stock and commodities.
Used by trading desks of securities brokers, futures brokers, banks, listed companies, commodities brokers, and fund managers throughout Asia. Join the thousands of financial professionals that have equipped themselves with AdvisorX today!
| | |
| --- | --- |
| Multiple Workspaces: | Create an unlimited number of workspaces, and customize them by placing charts, quotes and other content. Workspaces can be saved with custom settings for easy viewing upon logging in |
| Usability: | Fast keyboard and mouse access allow you to hone in on particular charts, end of days prices, and options prices |
| Real-time streaming futures, equities and options quotes: | View flexible quoteboards that are easily customized to include the symbols and price elements needed and change the way these quotes are displayed for ease of use |
| Technical Analysis -- customizable, real-time streaming charts: | The powerful charting software allows you to customize colors, sizes, window placement, studies, and add trendlines. Our feature rich and robust platform offers a choice of more than 60 indicators including Fibonnaci, Gann and Pitchfork |
| Watchlist and Porfolios: | Keep informed on frequently used symbols by configuring Watchlists , symbol quotes can be accessed quickly from the list. Conveniently drag and drop items between Watchlists and Portfolios |
| News Services: | Stay on top of the news and get the inside scoop with access to real-time streaming Dow Jones news |
| Download Data: | Download historical data to your computer -- export tick, minute, daily, weekly or monthly data into Microsoft excel or Open/Star Office excel format in just one click |
| Real-Time Alerts: | Be alerted via email, sms or on your system when a futures contract or equities symbol's last tick, day's high, last bid or other field reaches your pre-defined value |
---
Download Instructions:
Netscape Users: Click on the download link above and save the .exe file into your Windows/Temp directory. Once you have saved the file, find the file and double click it to begin the installation.
IE Users: Click on the download link above and choose "Save this program to disk" from the Internet Explorer dialog box that pops up to begin the installation.
System Requirements
Before you start downloading the software, please read the following instructions: Make sure your PC meets the following system requirements:
| | | |
| --- | --- | --- |
| | Recommended | Minimum |
| CPU | i7 processor | Core 2 Duo |
| RAM | 2GB RAM | 1GB RAM |
| Hard Disk | 100 MB available disk space | 100 MB available disk space |
| Operating System | Windows XP, Windows Vista or Windows 7 | Windows XP, Windows Vista or Windows 7 |
| Browser | Internet Explorer Version 6 (or above) | Internet Explorer Version 6 (or above) |
| Internet | ADSL with a minimum 1MB dedicated bandwidth | ADSL with a minimum 512K dedicated bandwidth |
| Color | 24-bit colour | 16-bit colour |
| Resolution | 17" or larger dual monitors with 1024x768 resolution | 1024 x 768 resolution |